CHURCH NEWS, September 2019
On 14th July we were delighted to be able to witness two of our church family publicly declaring their commitment to Christ by going through the waters of baptism. The church was full, as family and friends of Luke Havell and Joanna Scott (Randy's wife) joined with us to hear first Joanna, then Luke tell of their journey to repentance and life-changing faith in Jesus - two very different stories - before each was baptised; a truly joyous day!
(Hear their testimonies for yourself on SMEC website, 14th July, track 3. Also, hear Randy Scott's testimony, 28th July, track 4 - another remarkable story!)
July also saw the start of the annual Team Havell UBM summer marathon, with Naomi once again committing to a two-week mission in Bournemouth aimed at international students. As in other years, many fruitful contacts were made, with opportunities to share the gospel and personal testimony with young people from overseas, and Christian literature gladly accepted. This year, particularly promising conversations were had with a number from Oman, Saudi Arabia & Spain.
Then Naomi was off to St Ives, after which she joined Esther for a week at Lyme Regis, led by Esther's 'significant other', Luke West (heading up a team for the first time; all reports indicate it went very well!). Meanwhile Luke was playing his part in Benllech and then Llandudno.
In more Havell news, congratulations to Naomi, who received a 2:1 Hons. degree in Psychology from Bristol University, and will now be staying on in Bristol to work as a Ministry Assistant at Emmanuel Church (where she has been worshipping for the last three years).
Meanwhile, Esther is serving for a second year as Ministry Trainee at Christchurch Durham.
Also in July we were delighted to welcome not one but three new members into our church family; Simeon Ko and Kay Baek (married couple from Korea) and Daniel Tanton (Dan's testimony follows this article). We trust we will all be blessed as we share fellowship with one another and seek to serve God together.
And congratulations to Anna Rajo who did very well in her GCSEs and moves on to do A-levels at a local grammar school in Gloucester.
N.B. From now on, our Sunday evening service will be at 6pm (not 6.30pm), except for the last Sunday in each month, which will remain at 4pm (followed by tea).
Hilary Gower
Betty Bacon, 1927 - 2019
Betty was born 1927, to a farming family, in Alkerton, near Banbury, Oxfordshire. Her earliest memories are of bottle-feeding baby lambs in the farm kitchen, with geese, chickens, turkeys, ponies, pigs and hunting dogs being a normal part of life. She remembered nearly all the chickens getting killed by a fox one night!
Aged five, sadly Betty lost her mother in childbirth. Her father remarried, but her stepmother was not easy to get on with, and difficult years followed.
Nonetheless, Betty enjoyed a very close relationship with her maternal grandmother and this was a great help to her. She was good at sports, getting prizes as a child in horse jumping, and playing as a teenager for the school in the ice hockey team. Her father in his turn was a champion in running and football, playing for the county in days long before any of this became professional.
Just after becoming twelve, the 2WW broke out. She remembered the sombre mood among the adults who had lived through the First War. Despite living in the country, they saw their share of bombs. If the German bombers got chased out of London by the British air force, they dropped their bombs anywhere so as not to return with them. Betty's father told a friend he wanted to go and park his car in a better position and would come straight back. In the interval the friend died from a bomb dropped by a fleeing plane. When Coventry burned after the worst blitz in 1940, the glow of the fires could be seen in their village. The day the war ended, Betty was cycling back with a friend from Stratford-upon-Avon, where they had been to see a play, which they did often. As evening closed in, lights were on everywhere (no blackouts) and people were gleefully in the streets. Then they enquired and found out the war was over!
At university, Betty found some colleagues were committed Christians and eager to study the Bible and talk about it to others. Betty's faith at that point was timid and not very personal. She decided to read the Bible and see what they were excited about, and found a personal relationship with Jesus Christ in doing so.
Betty had already done a term or two when Harry Bacon came back from the Far East, after the end of the war and joined her course. She lent him her notes, saying years afterwards, "I didn't know where that was going to lead!". Betty's call to mission was in Habakkuk 2:2 "write the vision so that he who runs may read it". Harry proposed in a picnic in Epping Forest: "Come to Brazil with me, there will be opportunity to write for the Lord there."
Liz Bacon
And that is how a young lady from Banbury became half of our first missionary couple, serving in Brazil for over 60 years.
Thanks to Liz for writing this article about her mum. Our thoughts and prayers are with them at this sad time. May they know the Lord's comfort as they grieve the loss of both Harry & Betty this year.
Hilary Gower
Daniel Tanton's Testimony
Daniel Tanton grew up in a loving Christian home, and so he has been very familiar with the Word of God from an early age. However, he openly confesses that for a long time the LORD was not the focus of his life, nor his worship. Indeed, he was far more interested in the things of this world. Furthermore, his conscience was not pricked when he engaged in worldly pursuits. He would not admit that there was anything wrong with swearing, for example, or doing those things he had been taught not to do. There was no fear of God in his eyes.
However, all of this changed about eight years ago. Daniel attended a Christian camp and heard the gospel in such a way that it really hit home. The LORD caused a healthy fear to form in him, and he realised that if he were to die apart from Christ, the LORD would treat him as his sins deserved. God drew him to repentance by His lovingkindness and in September 2011 Daniel placed his faith in Christ.
From that moment, he describes feeling a profound sense of peace. His sins had been forgiven and he no longer felt condemned before the LORD. He has been growing in the grace and knowledge of his Lord Jesus Christ ever since, and he desires to grow more. In 2013, Daniel made a public declaration of his faith in Christ through baptism, at Trinity Road Chapel.
For the last year or so, Dan has been regularly attending Summerstown, initially with his immediate family, but latterly on his own, and has settled in well with us. It is a delight to accept his transference of membership from TRC to ourselves, and we trust Dan will know great blessing as he makes this commitment to our fellowship.
Hilary Gower
---
CHURCH NEWS, July 2019
Festus Joseph, 1942 - 2019
Our condolences to Christine Allen, daughters Caroline, Nicola, Amanda and all the grandchildren at the loss of Festus Joseph (known as 'Joseph') on 21st May. Festus had suffered in recent years from PSP (progressive supranuclear palsy), a degenerative condition that affected his speech and movement, and eventually claimed his life. Our great consolation is that, just a few months ago, Festus had accepted Jesus as his personal Saviour, after many years of attending various events at church with his family and hearing the gospel challenge countless times. So when we gathered for Festus' funeral a few weeks later, and Peter declared to a full church that Festus was now in Glory due to his faith in Jesus, we were able to be thankful even on this sad occasion. (Never give up praying for someone's soul!)
Correction re. 'Why Keep Knocking?'
End of 5th paragraph should have read:- 'On average when I am out 'on the doors', I will meet someone at one in three of the homes I call on. In successive circuits of the area, I have met some-one at virtually all the homes I have called on.'
Apologies to Graham!
Hilary Gower
Hazelfest 2019
This year Summerstown Mission and St Mary's were invited to run a joint stall at the third annual Hazelfest event on the estate opposite both churches. Having been unable to attend last year, we were pleased that the Work and Play Scrapstore offered us the opportunity again and generously gave us access to their facilities to augment our craft supplies for the event.
Sunday 19th May started earlier than usual for some as tables, chairs and a gazebo (thank you Enid!) had to be in place before the 10am prayer meeting. The event started at 1pm, so as soon as the service was over, literature and display boards, craft supplies and a quite heroic amount of home baked cake had to be transported over the road to the grassy area between Hayesend House and Blackshaw Road. A good number of enthusiastic volunteers from both churches attended, in hour-long slots, to chat with attendees and distribute literature, decorate boxes and get covered in glitter or sell cakes for a nominal fee.
It was a busy afternoon with plenty of other crafts and activities including Summerstown 182 making daffodils in preparation for an event in September to celebrate local plantsman Peter Barr, known as the daffodil king. There were also performances by the Gemini Dancers of Earlsfield, the Generate Drumming Group and the Hestia Choir featuring members of St Mary's Summerstown. We were able to meet and chat with neighbours from the Hazelhurst estate, invite them to church events, discuss box designs and favourite cake flavours (the chocolate ones went fast, but people returned for more banana muffins or parkin).
By 4pm the event came to a close as craft supplies and literature were packed away and the cake price reduced to encourage last minute purchases. The event was well supported and thanks are due to all the volunteers from both churches.
Jo Havell
Messy Church (the mess is spreading!)
May Bank Holiday weekend Jo Havell & I set out for High Leigh Christian Conference Centre for our first time at Messy Church International Conference (held every three years), my first official showing as the new area co-ordinator for SW London; Jo is unofficially sharing the post with me.
At High Leigh we met around 200 other representatives from Messy Churches around the globe, from as far as Seattle and even Australia, and we learned that Messy Church has grown from one person's idea 15 years ago to over 4,000 Messy Churches around the world, with half a million attenders! People testified to conversions, even baptisms, within their Messy Church congregations, and adult discipleship as an integral part of their regular programme.
It was both encouraging and challenging to hear how other Messy Churches have grown, some in a comparatively short space of time - yet all very inspiring for our own Messy Church. A big part of Messy Church is sharing ideas as well as testimonies, and the many workshops and seminars on offer certainly provided plenty of opportunity to learn from others, as well as using mealtimes and any free time to 'network' - which is how I found myself, a few weeks later, giving a Bible talk in another local church's 'celebration time' (a short, family-friendly service) at just a few hours' notice, when I was only supposed to be observing and offering feedback (my first official duty in my new role), but that's Messy Church - things get a little 'messy'!
The following weekend a lady from that church joined me, Jo & two of our Messy Church team at a training session led by Lucy Moore (the Bible-Reading Fellowship worker who created Messy Church) at St. Saviour's in Raynes Park. Again, this was very inspiring and challenging, not least because the host church don't run a Messy Church, and though the vicar is keen, his congregation are as yet resistant, so we had some prayerful persuading to do!
The next day was Pentecost, and Messy Church had been invited to take part in 'Thy Kingdom Come', a Church of England Pentecost celebration in Trafalgar Square (held annually since 2016), so, being free that day (i.e. not teaching Sunday School) I was able to go and help run one of several craft activities on the subject of prayer, making little bead bracelets as a reminder of the Lord's Prayer, and giving out contact details for Messy Church. Apparently nearly 700 bracelets were made that day, as well as 1000s of other prayer activities taken up! And that was just in our tent - Trafalgar Square was buzzing with action and interest - a fantastic day!
Hilary Gower
---
CHURCH NEWS, May 2019
During March & April we ran a 'Christianity Explored' course, in conjunction with St. Mary's church. Attendance was good and consistent, a mixture of those young in the faith and those still seeking, with some productive discussions and positive outcomes.
If you missed it this time around, look out for it again in the near future - with such encouraging feedback, it is bound to be repeated! Also look out for another Money Management Course, planned soon.
Our new brother & sister, Simeon & Kay, originally from Korea, are a couple with a heart for evangelism. Living 'by faith', they have opened 'Living Waters' bookshop in Tooting Market where they can have a regular presence to witness and talk to people, as well as distribute Christian literature. Pop in and see them, the Market Yard entrance, Tuesday to Saturday between 11am & 4pm. And please support this new venture in prayer; also pray for Simeon, with his frequent trips back to Korea, for safety and God's blessing on his efforts in His name.
Hilary Gower
Harry Bacon, 1920 - 2019
We were saddened to hear of the passing of Harry Bacon, at the beginning of April, at the age of 98, just a few weeks short of his 99th birthday.
Harry was the first missionary sent out from Summerstown. He was born & raised in Blackshaw Road, the 6th child of seven, and brought along to the Sunday school from a very young age by his older siblings. He accepted Christ as his saviour while still a child. He joined the Boys' Brigade, and quickly became a sergeant, which gave him the opportunity, in 1935, to take part in the Silver Jubilee celebrations of King George V, outside Buckingham Palace.
As Harry grew older, he developed a strong conviction that he was destined to be a missionary, probably to Brazil, but first was acceptance into Cambridge University, where he attended for a year and a term before receiving his papers for active service. Harry registered as a 'conscientious objector' for WW2, and as medical corps., was assigned to a parachute regiment. In Harry's own words, 'I jumped into Normandy on D-Day!'. God preserved him through many months of front-line service and brought him home safely and uninjured!
Next was the completion of his BA at Cambridge, a year of Bible College and then off to Brazil! Harry worked for a year on the mission-field before his fiancée Betty was allowed to join him. They married in Brazil, and served the Lord together, mainly as Bible College lecturers, for many decades, until retiring to the coast in the 1980s. But they did not stop serving their Lord! They helped to start a church in their town (Maiepe), which Harry then pastored for some years, while Betty was part of a team working on a Portuguese NIV Bible, translated from the original Old Testament Hebrew.
Our thoughts and prayers are with Harry's children and grandchildren at this time - we know how much he will be missed, especially as the first great-grandchildren have just joined the family. Please pray especially for Betty and Liz as they adjust to life in Maiepe without him.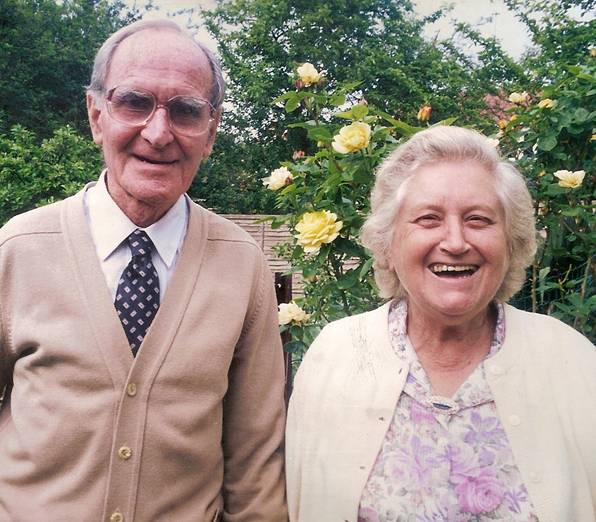 Harry & Betty Bacon (2014)
Hilary Gower
Correction re. 'Why Keep Knocking?'
End of 5th paragraph should have read:- 'On average when I am out 'on the doors', I will meet someone at one in three of the homes I call on. In successive circuits of the area, I have met some-one at virtually all the homes I have called on.'
Graham Jones
Never, never give up praying for someone!
I had doubtless heard about Christ when I was little and I understood some of the claims of the gospel but I didn't take them seriously. When I was eleven a new kid started at my school. He was a bit awkward, had a strange American accent and said that he was a Christian. My friends and I never intentionally meant to be hurtful but before very long for some reason my bright yellow sports bag became the 'holy banana bag' and we told him that we would worship that rather than Jesus thank you very much. I can only imagine how he must have felt as we mocked his faith. Strangely, I still remember his name: Jon Mansfield. Thank you, Jon, for telling me about Jesus.
My parents gave me freedom to choose my own path but they were somewhat sceptical if it involved Christianity. In later years my dad had a vague interest in the occult and had a set of Tarot cards. He told me flatly that there is only one true Christianity and that is Catholicism, but he was convinced that it was a man-made religion and had nothing to do with any kind of deity.
When I was 18 I started dating a girl who had a Christian upbringing. Occasionally I would go along with Alison to church. One of her sister's friends' claimed to be demon-possessed but she just seemed weird to me. When I went into the house one time - where the friend was staying it felt cold and the atmosphere seemed strange. I could tell that all involved were deeply affected but other than the atmosphere I did not really appreciate what was going on. It did however confirm that I had some kind of belief in a superhuman being.
I first asked Jesus into my life in about 1988. My boss was a church warden of his rather high church - we had some interesting conversations as he went to a rather high church. When a new vicar was being ordained, Alison and I went along to the service. Whilst there, Alison went and knelt at the front during communion and I realised that I knew who Jesus was and therefore should join her - so I did. I asked the Lord Jesus into my life to be my Lord and Saviour. When I told Alison's family and others at church that I had accepted Jesus, they were so joyful, but I didn't really understand what all the fuss was about. That should have been a warning of things to come.
I asked Jesus into my life - but I never really let him in. After three or four years of trying to be a Christian I came clean and denounced my Christian faith as being meaningless and gave it all up. I remember praying that if I didn't have obvious evidence I could not believe, but of course, God doesn't roll over and beg like a dog when we ask. I made the deal with God but as he didn't do exactly as I demanded at the time I felt that I had the excuse I needed to just walk away: no proof, no faith!
Things in my life started to go all wrong. I lost my job but managed to get another one, though it was with a crook that didn't pay me what he should - he just kept making excuses. My relationship with Alison fell apart and we split up after being together for six years. We were in the same social circles and it was driving me crazy so I got a job near Ipswich and moved up there out of the way.
I lived a very worldly life and did my own thing for a few years. I thought I was doing really well. I got a job that was paying me pots of money and I soon learnt how to spend it. I was still searching for something though. I explored wisdom and tried to make sense of this earthly existence through it, but got nowhere. It all seemed meaningless. I read about existentialism, Buddhism, Taoism, Islam and New-age thinking.
Then I called myself hedonist and an epicurean (a person devoted to sensual enjoyment, especially that derived from fine food and drink). I thought that personal enjoyment was all that mattered. I explored pleasure in any way I could. I did circle dancing around crystals, Tai-chi, 6-mile runs and 8-hour trancey-dancathons. I was eating food in expensive restaurants, drinking lots of alcohol, going clubbing until 6 in the morning and generally living it up. I even saw a humanistic psychotherapist once a week for six months but none of it made me happy - or at least not for very long.
You see, if there is no God and there is nothing for us but a meaningless existence then you might as well get enjoyment by whatever means you can. Eat drink and be merry for tomorrow you shall die.
I was very, very far from God. As far as I was concerned, He did not exist and Jesus was a mad magician of old.
I thought I was on the path to enlightenment but needed to take more drastic action. I gave up materialism, gave away any remaining money I had and went to university to study but also for the various extracurricular activities. I wanted to explore the New Age more fully and so Brighton seemed the place to go.
There was this amazing New-age book that showed the path to enlightenment in ten steps. I got hold of a copy. It was written like a parable so I could see how to experience it and apply it.
When I started the book it made so much sense. It talked about synchronicity, the coming together of things. I was excited. The first chapter rang true, but as I turned the pages, it seemed more and more ridiculous what was being offered as enlightenment.
I don't remember quite how it happened, but I got to the end of the book and decided to have a read of the Bible. Again, I'm not sure how it happened, but I turned to the book of Ecclesiastes and I was shocked to my core! How could a book written so long ago tell me what I'd been up to for the last few years and then tell me what to do next? Wisdom is meaningless, pleasure is meaningless, a chasing after the wind - I had experienced it first-hand!
Finally, I had the proof of God that I asked for years before. I started seriously reading my Bible again and finding out that God is Holy, fearful and awesome but He loves us so much that He gave his only Son to pay for all our sins and also be a bridge between us and Him.
I started going to church again and I saw Alison a few times and I remembered that she was the only person in the world that stopped me feeling lonely. (I had tried for five years to forget about her!) I made a deal with God that if He got us back together then I would serve Him always. Well, to keep an already long story from getting longer; on the 5th May 1998 I realised that every deal that I had made with God had been fulfilled on God's side (over a ten-year period) whilst I had done nothing at all. By a fantastic set of events Alison and I were back together, I had direction and purpose, and you could say that I had a certain level of enlightenment. That day I recommitted my life to Jesus and really began to try to live as a Christian should.
When I came back to Summerstown I found out that whilst I was running away, the people there had been praying for me; Emily, Dennis, Lily, Colin, Eunice & others. They didn't stop praying until I came back. (If you were one of them, thank you!)
I am convinced that if someone truly searches for God then God will find them. We are told that in Scripture, after all. Sometimes it can take years. But keep praying and leave it in God's hands.
Lee Sanders
---
CHURCH NEWS, March 2019
Our new church motto for this year is from Psalm33:-
'The plans of the Lord stand firm forever; the purposes of his heart through all generations.'
Is it any coincidence that Peter was led to choose this verse as our church entered its 140th year? I think not! What a perfect time to pause & reflect how God's plans for one tiny part of his kingdom (our church!) have endured against, at times, great odds. Not only have we survived, but flourished! It also causes some anticipation as to what may be coming our way next - new year, new challenges, future blessings . . .
Talking of blessings, our financial situation continues to be supernaturally enhanced, and so we have taken the bold move of installing double-glazing throughout the building, at no small expense, being completed (hopefully!) as I write this. For those fearing we might forever have ruined the look of the building (!), please see the photos below for reassurance.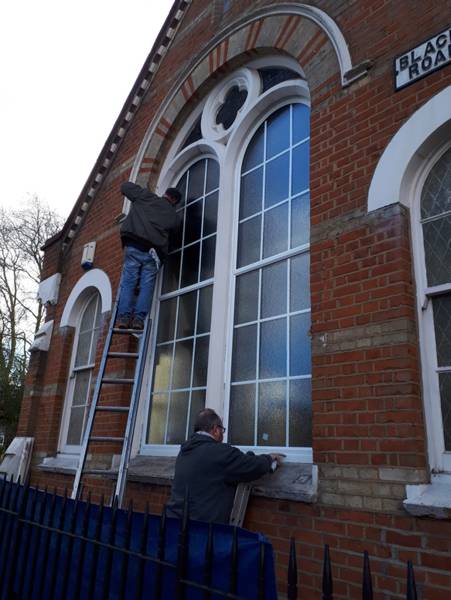 In February we were very sad to say goodbye to Brian & Michelle Tanton & Reuben, who, after nearly a year with us, moved on to pastures new in Kent, to be nearer to Brian's ageing parents. We pray God's blessing on them in this relocation, and trust they will keep in touch - not least because Daniel Tanton is remaining in the Wandsworth area, & has also become part of the 'family' at Summertown.
On that note, Daniel is also one of a handful of regulars at our new Youth Bible Study group, initiated and led by Luke Havell, that is going well, & shows great promise for the future. (This has been an obvious need for some time, but with a limited number of dedicated workers, it was not possible until now - well done Luke!)
In other news, we join in prayer to support Eugene Nylander, who, after 20 years working for the same company, was unexpectedly made redundant. May this bring new opportunities for him as he seeks God's good guidance.
We are also praying that Charlie Stewart (Pat Griffith's cousin) will make a speedy recovery from his pelvis injury sustained in a road accident, and be able to join the regulars again soon at COM Club.
We also join with Ray & Jill Werner-Parker's family & friends to pray for Ray's complete recovery from the minor stroke he suffered in February. We look forward to enjoying his preaching ministry again soon!
Lastly we give thanks for answered prayers concerning Julia Laine (a past member at Summerstown) as she is now making a good recovery after a life-threatening bout of food-poisoning last Christmas, though she is still in hospital. We trust God that Julia will know his complete healing.
Hilary Gower
Why Keep Knocking?
I've been involved in door-to-door evangelism for nearly 45 years now, most of that time spent working with the London City Mission, continuing it into retirement. It has been a challenging experience, at times frustrating, at other times exhilarating.
This sort of work has got more difficult over the years - in two specific ways. People today, are far more apathetic towards spiritual matters than they used to be. When I first joined the LCM, virtually every time I went out on the doors I met someone I could follow up immediately; it is rare now, but it does happen! One man, working from home, invited me in the first time I met him - that on its own is a rare occurrence. We had a discussion, he took some literature, and invited me back. I've been back several times since then - it is a work in progress.
People today are understandably more wary of cold-callers, and it is far more difficult to get people to talk much with me. However occasionally someone does open up and we can have a good discussion. A young man told me that he recently lost his grandfather. This had been a double blow to him, firstly the loss of a relative he was close to, then also the loss of a role, as he had been his grandfather's carer.
However, despite all this, I believe that door-to-door work is still worthwhile. People generally are quite friendly towards me, and will take Christian literature, specifically the Good News Paper. The worst response I get is a short, sharp, "No, not interested", and that does not happen very often.
What has kept me going in this work over all these years? There are a number of factors in this. First and foremost is the call of God. The Lord clearly called me into the LCM, and, I believe, has called me to continue this work in retirement. He promised to be with me when I first joined the LCM, and that promise, Exodus 33:14, has remained very real to me. Part of my call to the LCM was a call to persevere (Hebrews 10:35-39). The Lord has called me to get on with it, despite challenges, problems and difficulties. Then, also door-to-door work is one way to fulfil the Great Commission. Jesus calls us to go to people, where they are, with the Gospel, not to expect them to come to us. Reaching people in their homes, through door-to-door work, is one way of doing this. In door-to-door work, we can meet people from all over the world in Tooting - from those who have lived all their lives in the area, to those who have come to this country from Asia , Africa, the West Indies, and Europe, men and women of all ages. On average when I am out 'on the doors', I will meet someone at one in three of the homes I call on. In successive circuits of the area, I have met some-one at virtually all the homes I have called on.
Most people are willing to talk with me, albeit briefly, and appear to appreciate my call, even if nothing, at that time appears to come from it. This is another factor in encouraging me to keep going, building on these opportunities to point people to Jesus and to pass on Christian literature, not just the Good News Paper.
At the heart of what keeps me going is the need of people, the need they have of a Saviour, and that is Jesus - and how are people going to know about Jesus unless someone tells them? (Romans 10:14,15) and that is the whole point of door-to-door work. I believe that the Lord has sent me to people in their homes, to introduce them to Jesus.
And finally - I need to remember that this is the Lord's Work. He has called me to sow the seed of His WORD - and to trust HIM to bring life (1 Corinthians 10:6,7).
Your prayer support in this work is needed, and would be appreciated.
Graham Jones
---
CHURCH NEWS, January 2019
Christmas at Summerstown
Festivities began with COM ('Come on Mondays') Club Christmas crafts and festive nibbles, with a 'pause for thought' on the Season. A good time was had, though for various reasons attendance was low. (Much prayer is sought for the future of this monthly get-together for 50s & overs, a joint venture shared with St. Mary's church.)
Two days later it was 'all available help needed' to cater the Minis & Minders Christmas lunch, a very busy but lovely event, and a chance to mix & mingle a bit more with the parents and carers who come along regularly each week.
The next evening it was Carol-singing around the neighbourhood, led by St. Mary's Church.
The day after that, Messy Christmas took centre-stage - full-on Christmas crafts for all ages (glitter & glue!), a nativity presentation, a carvery-style Christmas dinner, Christmas carols between courses, and then of course, pudding!
Some of us had to go for a long lie-down by the end of this week - but rest was only for a day, as our first Carol Services were the day after that, and Summerstown Christmas Choir were once again asked to sing at the combined 'Carols by Candlelight' service at St. Mary's Church across the road. Attendance was encouraging, and Vicar James Fletcher made good use of the opportunity to present the Gospel, 'the real message of Christmas'.
The following weekend, just before Christmas, our Sunday School ('Sunday Club') took centre-stage for our Youth Carol Service, presenting a dramatisation of The Wise Men's part in the Christmas story, which Sunday Club members had helped to write.
Our Christmas Day service was very well attended; favourite carols were sung, young &
old-er showed their favourite Christmas presents, and Peter gave a presentation 'blowing some of the myths' surrounding the Christmas story, emphasising the vital truths instead.
(Please pray for those who joined us that day who do not yet know the Saviour.) Then nearly 20 of us stayed at church for Christmas lunch all together, followed by traditional games and general festive good cheer - an excellent day! (Thanks once again to Dave & Maggie Connor for hosting this - it's quite an undertaking!)
Hilary Gower
OTHER NEWS
We are absolutely delighted to welcome Jacqueline Scott into our church family, new daughter of Randy & Joanna, who was born on 16th November (weighing 7lb 7oz). Initial problems (burst pipe, so no heating, and then another spell in hospital) delayed their return home, but all is now well, and we wish them God's rich blessings for the future.
Sadly (see following article), just two weeks later, our dear sister Stella Fifield succumbed to her lengthy illness, and left us to be with her Lord. The very-well attended Thanksgiving Service celebrating her long life was held on 17th December. Please pray for Stella's family & close friends as they grieve her loss.
(For any who could not attend this service, it is now available on our SMEC website under 'Sermon Recordings'.)
Hilary Gower
Memories of Stella (1928 - 2018)
We remember Stella as a most gracious, godly lady, who was always willing to help and undertake whatever tasks needed doing. Nothing was beneath her. The words faithful and loyal come to mind as well as gracious and godly.
She was a wonderful teller of Bible stories and had an amazing ability to bring them to life. We remember a number of occasions where she shared stories with the children during services at Summerstown, and of course the adults thoroughly enjoyed them too. She spoke at the Women's Meeting at Summerstown on many occasions and was always most encouraging and interesting to listen to.
Since we knew her for over 40 years, we tend to think of her and Eddie, her husband, at the same time. Elaine recalls a snowy journey to church one winter many years ago (to Merton EC where we knew Stella and Eddie before) when she was pushing our younger son in a push chair through the snow. Eddie and Stella took the older one's hands and swung him in the air as they walked along. That was typical of their helpfulness.
We can also thank them both for introducing us to the Lake District, which became a favourite place of ours too. They told us of a lovely country house hotel in Ambleside where we stayed for many years until it closed. They loved walking so we also had that in common with them.
Keith Dennis
My most abiding memory of Stella will always be as a faithful and constant prayer warrior. When Stella said she would pray for you or about a particular issue, you could rest assured that this would be carried out regularly and diligently. Over many years she prayed for us as a family weekly and in more recent years she lifted up the children and I before the Lord on a daily basis. She would also follow up on issues mentioned in our prayer letters, asking how things had worked out and mentioned people by name, even unfamiliar Malagasy names that were difficult to pronounce.
Not long after the Lord suddenly and unexpectedly took Ravaka to be with himself, I received a lovely card and letter from Stella. The part that struck me the most was: 'I too know the heartache of losing a beloved husband.' , yet she was also sensitive to the pain I would be facing in my particular circumstances, being far from family and with two young children to comfort too. She assured me of her prayers and reminded me of the Lord's presence and faithfulness. In particular she shared a verse that had especially blessed her since being a widow, the second stanza of Psalm 27:1 with the reminder that our true strength is in the Lord and not those we tend to rely on in this life: The LORD is the strength of my life; Of whom shall I be afraid? (New King James Version).
Stella will be greatly missed and her memory will continue to challenge me, and I hope others, to demonstrate that same faithfulness and perseverance in prayer for the Lord's work and for His people.
Liz Rajo
Stella showed great care, kindness and generosity to us as a family. She was always interested in how our three children were doing and showed concern and thoughtfulness to us, especially around the time that I was made redundant and re-training. We are so grateful for her prayers for us.
Malcolm Havell
Stella showed amazing faithfulness in coming to Minis and Minders week by week to make the teas and coffees, even when she was tired. She always arrived early enough for a time of prayer before the meeting. The parents and carers really appreciated her.
Jo Havell
What I will remember about Stella the most is fact that when she sang in church she would almost get a spring in her steps and dance her own little dance to certain songs to express her joy in the Lord, something I think that is uncommon for someone of her age. Whenever we sang "Bind us together Lord" she made it a point to look around at us smiling on the last verse which says:
"You are the family of God you are the promise divine..."
Stella and her husband Eddie had a Christmas tradition which she carried on long after his death. Instead of giving Christmas cards, she listed the names of everyone in church and tick each one as she wished us Merry Christmas. The money that would have been used for cards would then be given to a Christian charity. A wonderful gesture!
Leah Valsaint
My favourite memories of Stella are spending time with her in church. She always sat in the same seat in the right hand side by the window where she loved to praise God. I remember her exuberantly singing "Teach me to Dance" by Graham Kendrick whilst clapping her hands to praise God. I loved her freedom of worship. I also remember her adding a wholesome "hallelujah!" after an especially good sermon Peter had preached. I especially remember the amazing stories she used to tell during Family Focus. This amazing woman wrote to me every single week for months and months to encourage me when I really needed it. It meant the world to me and I now treasure these letters. I love and miss Stella!! But she's with Jesus now - and I know she's happier than ever.
Bisi Obamakin
Stella was a lady who really loved the Lord! I got to know her through the weekly Women's Meeting at Summerstown, where I learned so much from her. I got a lot more confident in sharing my faith and leading others in learning from the Bible, from Stella's encouragement and example.
Stella was always so generous, inviting us to her home, and showing love to everyone - a godly lady who loved to serve her Lord!
Enid Parchment
Stella with Noah Joseph - December 2007
Stella giving a children's talk - July 2006
'Let's take a selfie, Stella!', with Bisi Obamakin - Feb. 2018
---
Previous year : 2018
---