CHURCH NEWS, May 2017
Update On Minis And Minders
We continue to be busy with word of mouth providing a regular supply of new attendees.
Mornings have continued with the usual provision of toys, craft activities, play dough and song time. We have added new toys (tractor, car track, wooden castle and instruments) and had other second-hand toys donated. Easter and Christmas give opportunity to celebrate and share our faith, and at the end of the Autumn and Summer terms we have had our customary lunch parties.
For years Stella has been a busy worker in the kitchen, preparing teas, coffees, juice and biscuits, washing up and prayerfully keeping an eye on us! However at Christmas she hung up her Minis & Minders tea towel and retired. We would like to thank her for her years of faithful ministry and wish her every blessing as she puts her feet up now on Wednesday mornings.
We have been blessed by Maggie joining Dillan and me each week and Dave joining the rota with Peter and Graham. However, recent health issues have forced Maggie to take a step back from this work, for the time being.
Jo Havell
Update On Messy Church
This church group continues to thrive, attracting good numbers of church folk and visitors. We meet about once every half term and have been following a series through the Old Testament during our celebration time. These have included Moses and the manna and quail, two sessions on the Ten Commandments and fighting the battle of Jericho (complete with noisy trumpets made during the session). The families engage enthusiastically with the celebration and the craft activities reflect aspects of the story and are often used during its telling.
We also have sessions to celebrate Easter and Christmas and usually have a BBQ and fun day in September, although a number of situations meant that we were unable to run one last year.
The celebration is always followed by a sit down meal in the lower hall, giving an opportunity to chat with the children and families. This is a busy, sociable time with plenty of seconds to be had.
The church remains hugely supportive of Messy Church and as Naomi headed off to university and Stella retired from her role in registration, the Lord provided Dave and Maggie Connor.
Thank you to all those who help with Messy Church, and, with God's blessing, make it the success that it is.
Jo Havell


Maggie Connor Health Update
Unfortunately Maggie has once again been diagnosed with breast cancer, which has spread to the lymph nodes in her chest, affecting her right lung. She also has secondary cancer in her bones and is awaiting further scans to determine the extent of the osteoporosis. She will be given treatment in the form of infusions to strengthen the bones, thus stemming the growth of the cancer. The breast cancer will initially be treated using hormone replacement tablets, and it is hoped that this also will stem the growth of the cancer.
This is all obviously extremely frustrating for Maggie, one of our newest members, yet she maintains the positive attitude that has helped her cope with various health problems in recent years. She and Dave testify that everything they do is under the Lord's loving care, as the Apostle Peter wrote in 1 Peter 5 v.7, 'Cast all your cares upon Him, for He cares for you'. They are grateful for everyone's support and prayers at this time.
CHURCH NEWS, March 2017
New Venture!
'COM Club' ('Come On Mondays') started last October, to cater for the over 55s, filling the gap left by the closure of 'Friends'. In order to strengthen the base for this work, it has been established in conjunction with St Mary's Summerstown (just over the road from us). Meeting monthly at present (on the second Monday of each month), attendance has been between 15 & 20, with around 30 different people coming along at one time or another, which is a considerable increase compared with attendance for 'Friends'.
Activities have included crafts, knitting & board games, along with a Christian 'pause for thought'. Birthdays are celebrated, and refreshments served.
The December meeting was a little different, with games organised by Pauline Ryan from St Mary's (vicar Roger's wife), carols organised by Stella Fifield, a 'pause for thought' on a Christmas theme, and festive refreshments.
It has been an encouraging start, and our thanks go out to all who have supported us in this. However we don't want to be complacent - it is important that we build on this good foundation. More work needs to be done to draw people in who do not yet attend church. We also aim to have a greater variety of activities, and welcome ideas as to what we could do, or any speakers we could invite. Please also continue to pray for this work.
Graham & Rosie Jones
New Arrival!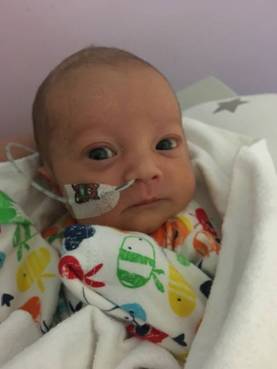 Thelma and I were delighted to become first-time grand-parents when Esme Jean Bines-White was born on 23 January at University College Hospital in Euston. She was born three weeks early by C-section and weighed just 4lb 4oz.
Due to medical complications Esme spent her first few days in the High Dependency Unit and since then has been in the Special Care Unit. It's not been an easy time for our daughter Melanie and son-in-law Dan, but they have coped really well. They, of course, can't wait to finally get her home! Currently, the doctors are working on getting Esme's blood sugar level stable and managing a very rare condition which means that her body isn't producing the steroid hormone, cortisol. It's possible that the natural process may start by itself, however, if this doesn't happen within six months to a year, it will almost certainly mean permanent medication.
We would be very grateful for your prayers for Dan and Melanie that God may speak to them in His love and also for Esme that our Lord's gracious hand may be on her.
Peter & Thelma Bines


From the Archives . . .
Ho

w come our church owns a house?
In 1984, SMEC 'inherited' no. 20 Wimbledon Road, Summerstown, primarily for a manse, or to put to some other good use. It's one of those typical long, thin 3-bedroomed Victorian terraced houses that London is full of, with a tiny back garden, & barely off the street at the front. So who did it belong to? And how did the church end up owning it?
It belonged to a lady called Miss Doris Pett, who lived there from 1902 - 1984 (her entire life), whose parents were members at Summerstown Mission, her father being Sunday School superintendent, at a time when there were up to 200 children coming along, and her mother one of the teachers. So from the age of 15 Doris herself was involved, already playing the piano for the 3-8s class on Sunday mornings. From there her responsibilities grew & within a few years she was co-leader of the children's choir, & co-leader of the junior girls' 'Spartan Band', a week-night club of P.E. & games.
The Pett family home was used almost as an extension of the church premises, being conveniently close to the church: there were always guests to Sunday tea, the young people's group were frequent visitors, and there was always a welcome for anyone who had forgotten their church keys, arrived too early, had a problem, or any other 'excuse'. Even after her parents both passed away, Doris maintained this practice of opening her home for Bible studies, prayer meetings, Sunday School teachers' meetings, committee meetings and occasionally the women's meeting as well! Long before the church had a burglar alarm, any church items that could be readily stolen were stored instead at no. 20.
After her friend Annie Naylor moved in (another single lady), Doris continued to extend this hospitality, and her & Annie also did the catering for Sunday School parties & Young Life Campaign events for years.
When I knew Doris (always referred to as 'Miss Pett'), she was a very quiet, reserved older lady, who took my Sunday School 'primary' class (age 4-7s), following the same format every week, playing a simple piano accompaniment for our choruses, and never, ever seen without a hat! (I remember being taken to her home one time when I was still quite young, and being almost shocked to see her 'naked' head!)
So was there more to this quiet, unassuming, godly lady than it appears? Was there ever! Doris spent her career within the Civil Service, which is all most people knew of her working life. Only after the start of the 2nd World War did her mother let slip, 'Doris always has her case packed & ready - where the King goes, there Doris goes!' did it emerge that she worked for the Privy Council! For her lifetime of unquestioning dedication to monarch & country Doris was awarded 1st the M.B.E. &, just before she retired, the M.V.O. (Member of the Royal Victorian Order), a rare honour given to her by the Queen herself, who expressed her gratitude for Doris' long & faithful service.
Yet for the 100s of people who attended the church during those years that Doris served at Summerstown, (becoming Assistant Secretary in 1937 & eventually General Secretary in 1968) there was no clue, no hint, of the truly heroic nature of the lady 'under the hat' - just a quiet, gentle soul who taught Sunday School 'til well into her 80s, & simply, faithfully played the piano every Sunday evening. Maybe this shows her humble loyalty & devotion to her even greater King, her Lord & Saviour. And explains why, having no immediate family to whom to bequeath her worldly goods, she chose to bless the church, on her passing, with the house that she had shared with her church family her entire life.